From September 2021 to April 2022, I had the privilege of participating in the National Student Advertising Competition. For nine months, my team operated as an agency, taking on the role of creating a promotional strategy and creative executions that would make Meta Quest 2 essential for college students and 18-24 year-olds. Below is a summary of my contributions to the team.
First and foremost, I want to thank my team for their hard work throughout this project. This photo does not have every member, but these were our presenters and the two extras we had to help us throughout our practices and presentation. I'm so proud of their work and they made this project a special experience.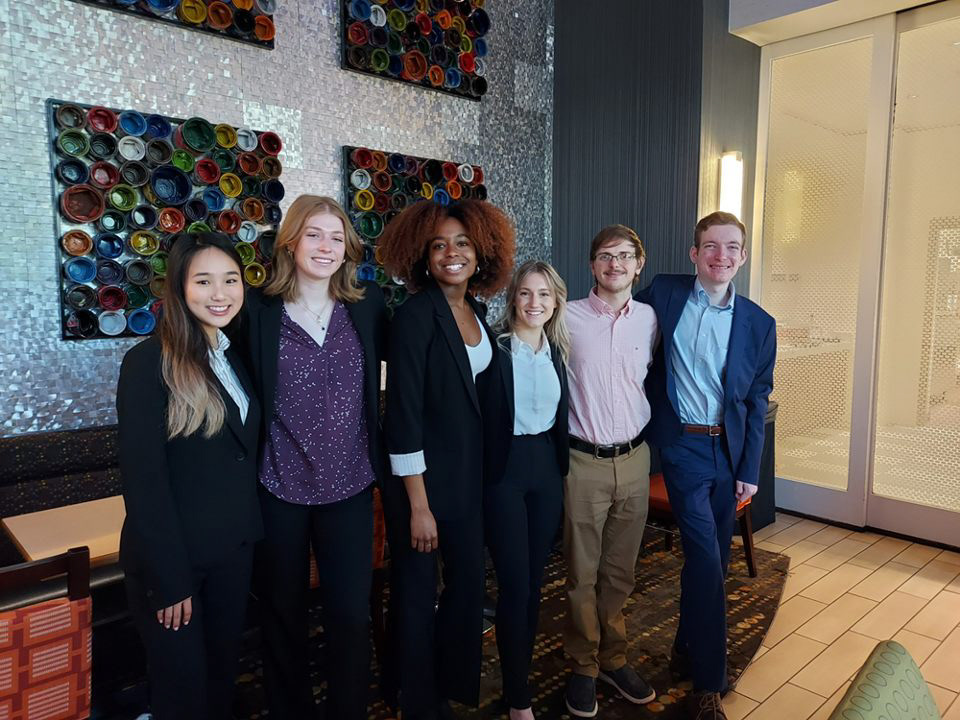 Shown during our presentation to reveal our tagline and introduce our creative executions, Daydream is a 1-minute commercial concept that showcases the breadth of Quest 2's possibilities.
The official line eventually became "Your New ____ is Ready," to integrate the already existing "Quest is Ready" branding from Meta. The brief given to us specified that we needed to communicate that sentiment, so changing the word "here" to "ready" was an easy choice.
The print ad focused on showing the immersive possibilities of Meta Quest 2, taking you from your living room (as seen in the background) through the Quest headset and into a stunning new reality- one that could only be experienced through the use of VR.
The original concept was more of a plan to see how the "conceptual math" worked out, and less of a finalized idea. I knew that I wanted to get the idea across that you could do whatever you wanted with the Quest 2 system, and one of the suggestions at our meeting was "riding a unicorn." Since it was made during that discussion, there was no unicorn for this version of the ad, with a man on a horse being the placeholder- but the point remained: Unique and special things happen inside of the virtual world.
I chose a script font for the words that would make up the blank because I wanted to communicate that the blank is meant to be a personal thing, filled in by each individual person. The social media campaign would have had individuals filling out their own blanks and submitting them to the Meta Quest 2 social accounts. 
After figuring out our tagline, I created a rough draft of what our social media executions could look like. One idea, seen above, is a quickly changing GIF that shows several unique situations that fill in the blank and showcase the diverse possibilities that the headset offers to its users. GIFs like this drive engagement, since the user will watch them multiple times and try to stop on each individual slide to view what the different options are. This is an effective tool that has been utilized by marketing teams with vastly different products.
This slide deck is a summary of the content that was presented by Team 733.  Due to the 11-page limit, there were many aspects of the original 20-page book that were cut to save space and time for our deliverable. For this reason, some content may seem bare when discussing creative executions, as those were greatly expounded upon in the full, 50+ slide presentation.
I participated in gathering primary and secondary research, creative concepts and executions, created the tagline and its meaning with the help of one other team member, and wrote our project's mantra (cut from the final product).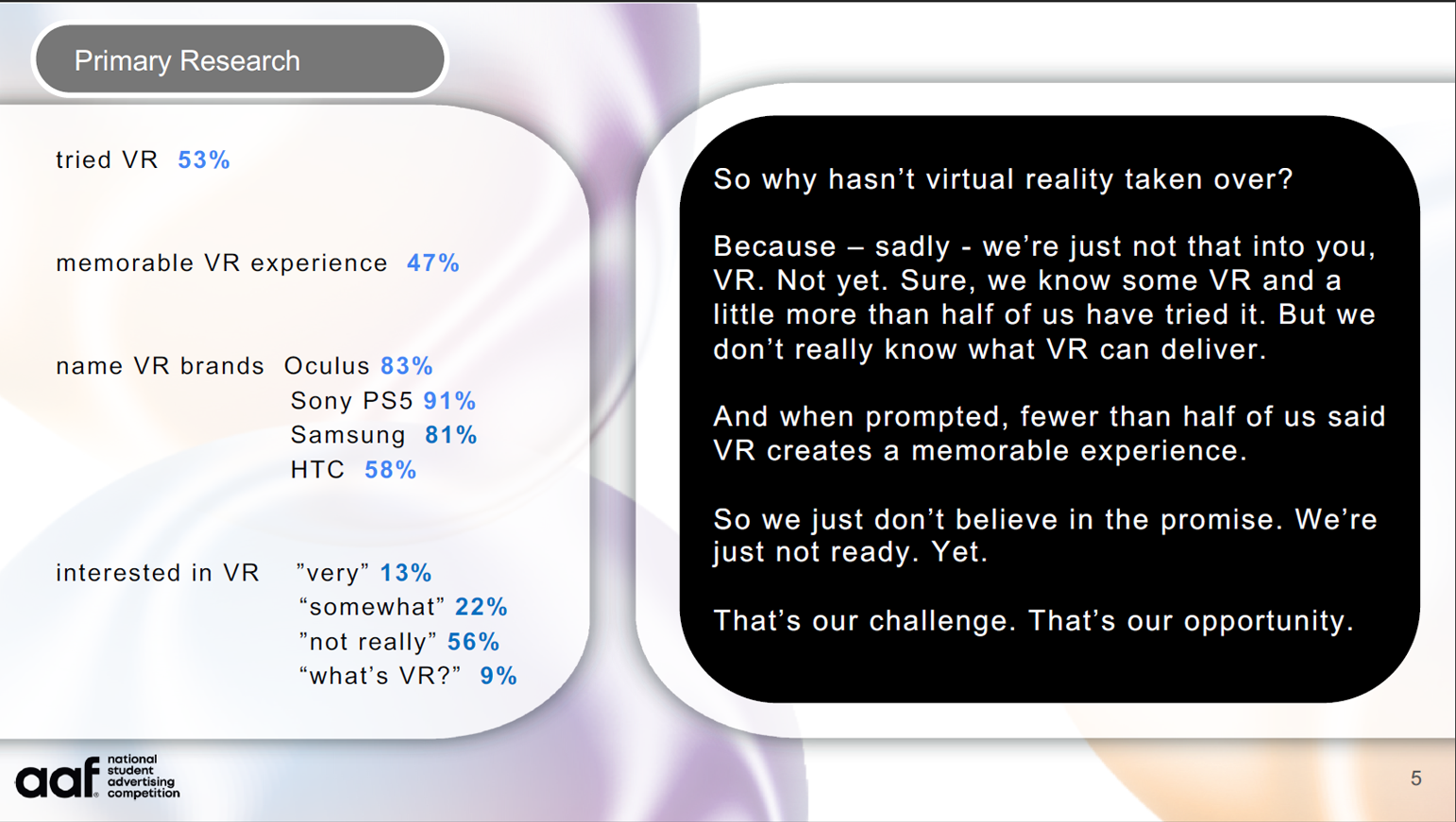 Mantra: 
In a world where you've been told you can "be anything," real life has a way of getting between you and your ambition. With Quest 2, you to slip the boundaries of "real life" and redefine reality, your way.
When we invite you into the world of Quest, it's not just a friendly statement. We're asking you to be yourself. Find whatever it is that makes you who you are inside of this deep and immersive ecosystem.
Quest 2 isn't just a VR headset, it's technology for empowerment. Whatever you're looking for can be found. We can't wait for you to fill in the blank that been missing.
Your new _____ is ready.
Welcome to Quest.
This nine-month project was a great look into how the advertising field works, with multiple responsibilities falling on every team member. I learned more on this project than I have learned doing anything else before, so here are a few of the lessons that I found while working on this presentation.
1. Be flexible and know how to pivot
There is nothing more frustrating than working on an advertisement campaign, only to learn that the company has rebranded, and no one knows what it means for the product you're selling, the branch that the company is operating, or the status of your project.
After several months of work, Oculus was rebranded as "Meta Quest," which posed some challenges for our research and marketing efforts. You couldn't ask someone if they'd ever heard of the "Meta Quest 2," because ten days prior to that it had never been called that before. Oculus was synonymous with VR in the minds of many, so seeing that brand go out the door was a difficult thing to grapple with at first.
Thankfully, Meta continued to sponsor the competition, so all of our preliminary work was still useful, with the exception of questions like "Have you heard of the Oculus Quest before?"
Heading into the final few weeks of the project, our creative execution video (seen at the top of the page) was a major piece of the presentation that needed to be finished quickly. Actual editing or footage gathering hadn't started yet, so all we had was the script that I had worked on with my professor.
Though I had worked on the tagline and the script for the video, editing it was not going to be my job, since I hadn't edited anything in Adobe Premiere for a long time.
Still, I wanted to be safe, rather than sorry, and if I was called upon in relief, I wanted to be as ready as I possibly could be. That week, I started editing together a sports video in Premiere Pro to teach myself the software again. The end result was simple, but I felt comfortable with it if anyone asked me to help.
At the end of the day, it turned out that I was needed after all. I stepped in and edited together the entire video and turned it in for the project (after several review sessions) two weeks later. If I hadn't learned how to do that in the middle of this process, we wouldn't have had one of the best pieces of our campaign. You never know when you're going to be called upon.
3. Analyze your work after you're done
Just because something is "done" doesn't mean it's at its best- or even that it's good. Growth comes from redoing things and looking at problems from different angles. It took tons of different lines to finally find the right one for our campaign, and even then, it wasn't done. We still changed a word in the tagline after "finalizing" it.
In another, similar example, I have three files on my hard drive called "NSAC video final," because each time I thought that I might finally be happy with every part of it. That wasn't the case, and I went back and adjusted things until it was as good as I could possibly make it.
This also applies to the project as a whole. Discussing the entire project at length and taking notes on your performance, the project's strengths and weaknesses, what you could have improved or done better if given more time, resources, or if you had made better use of the time granted to you can really improve your work for the future. I already have tons of notes on what I want to do with next year's team, and that analysis, combined with notes from other team members, will help us push forward and understand more of how we work and what we can do better next time around.