Losing a franchise quarterback is hard to swallow. Cutting him and getting no compensation is another feeling entirely. So how did this happen? What made the Carolina Panthers decide to move on from the 30 year old veteran in hopes of greener pastures with free agent signing Teddy Bridgewater? To look into the issues surrounding Cam's departure, you have to dive into the issues surrounding the franchise's history, while evaluating how the moves made this offseason may be intended to affect both the immediate and long term future of the organization.
During last season's training camp at Wofford College, no one in attendance expected there to be serious questions surrounding Cam Newton's starting position on the roster in the weeks to come. Instead, they watched as he tested his surgically repaired shoulder, throwing 50 yard bombs to wideout Curtis Samuel in stride. Newton was back in form and all was right in Carolina.
Fast forward to the third week of the regular season, and Kyle Allen put the NFL on notice with 261 yards through the air and 4 touchdowns in a surprising 38-20 win over the Cardinals. While the win was impressive — especially for the undrafted QB out of Houston — it was primarily set up by the strong performance of Christian McCaffrey, who burned the defense for 153 rushing yards.
That's when the rumors started: "Is Cam Done In Carolina?"
While it was far from certain, as a backup QB burned a defense that had no solid film on his style or an idea of what the new Panthers' offense would be, that didn't stop the media from creating story lines surrounding "The NFL's New Quarterback Controversy" and running with it.
Newton was sidelined for certain, but no one knew how bad the injury was at the time. In an interview, he said that he was working towards his return, but that it could take some time before fans would see him on the field again. "It could very well be a week. Or two weeks. It could be three weeks, it could be four weeks, it could be six weeks. But I have to understand and know if it takes that time I trust in this team that they will — we will — still be in a great situation by the time I get back."
For four straight weeks, it appeared that Newton was correct. The Panthers were in a great situation, with Kyle Allen leading the offense to close wins while the team waited for their quarterback's return. The passing attack had slowed down production-wise from Allen's first performance, with only three touchdowns in three games, but the record spoke for itself: 4-0. The major positive was that he hadn't thrown any interceptions, though fumbles had become a problem for him.
Despite reasons to be concerned, fans began to believe that there was something brewing in Carolina — that a former NFL MVP could be replaced by an unknown backup just five starts into Allen's professional career. Media outlets constantly talked about how Newton was 0-8 over his last eight starts, and how Allen had won his first five, dating back to a Week 17 start in 2018. The Panthers were winning, and that's all that mattered. The hype was at a fever pitch.
Then, the other shoe dropped. The San Francisco 49ers dominated the 4-2 Panthers by a score of 53-13. Carolina was dismantled in all areas of the game. Allen floundered, throwing 37 passes for 158 yards and 3 interceptions. The defense was nonexistent as well. Nothing was working. Everything began to fall apart.
Feeling that it was too similar to a game against the Steelers the year before — after which the Panthers nosedived from a 6-2 start to a 7-9 finish — the locker room became inspired to finish out the season strongly.
Unfortunately for Carolina, this would not be the case. The bad news started with Cam Newton being shut down and placed on the injured reserve a week after the team's trip to San Francisco, effectively ending his season. Carolina would win their next game against the Titans 30-20, but then lost seven straight games, tumbling further and further down the standings to close out the year.
One aspect that was too familiar for the team was the six total losses by one score, which was only one less loss in that category from the year before. For two straight seasons, the team had fallen apart due to Cam Newton's season ending injuries, with both campaigns including seven game losing streaks.
Ending the season with a 5-8 record as a starter, 17 touchdowns, 16 interceptions, and 13 fumbles, the Kyle Allen experiment was over in Carolina.
When former Panthers' owner Jerry Richardson sold the team in 2018, Carolina had never had a winning season in back to back years — this is still the case in 2020.
Looking at the entire situation surrounding the franchise over this past "era" of Panthers' football, the painful truth is that the core group of players had nine seasons together and went 76-67-1 over that period of time. They won three division titles in a row, but only won three out of seven playoff games in that span. For every victory it felt that there was a crushing defeat that followed.
The best the Panthers could do has always been one fantastic season, immediately followed by a floundering one. That's not a winning culture, and it's not good enough.
It should come as no surprise that someone who bought the team and has no connections to the staff or players prior to his purchase would look at the team and think they need a renovation.
Especially one who came from a minor ownership position in Pittsburgh, where head coach Mike Tomlin hasn't managed to have a losing season once in his 12 year tenure, despite all of the injuries and off-field issues that have happened with the team over those years. Tepper bought the team before the 2018 season, saying that he purchased a "winning organization." Right now it doesn't resemble one at all.
The Panthers constant up and down nature hasn't changed since their first three seasons, in which the Panthers went 7-9, 12-4, and then back to 7-9 immediately. This erratic behavior hasn't changed while under the watch of the constants of this franchise, and in Tepper's eyes it may seem that the only way to get to the promised land of achieving the bare minimum — winning more than eight games each in a two year span — has to come from a massive shakeup of the core.
This offseason has been full of discomfort for Panthers fans, who expected the main contributors of their 2015 NFC Champions to be around for at least several more seasons. The aging group has been all but eliminated now, with only Graham Gano, J.J. Jansen, Kawann Short, Tre Boston, and Shaq Thompson remaining from the Panthers team that played in Super Bowl 50.
This process began with the surprise retirement of All Pro linebacker Luke Kuechly in January. Citing health concerns and a feeling that it was time for him to exit, Kuechly shocked the football world, ending his career at age 28.
The offseason shuffle continued with the departure of veteran tight end Greg Olsen, who wanted to come back to the team, but also "absolutely" did not want to be part of a rebuild according to The Athletic's Joseph Person. With his Panthers career over, he had to choose between free agency or a gig in the booth for the 2020 season. Olsen had a large amount of production over his time with Newton in Carolina, but the team felt that it was best to let him walk due to age concerns and a larger contract than they were comfortable with.
In January, Tepper told PSL owners that he was "laser focused on building a championship organization." He followed that by saying, "It takes time to build things up the right way, and sometimes you have to do a little tearing down before moving forward."
If the Panthers have done anything over the last few months, they've definitely been tearing things down. In free agency they lost Mario Addison, James Bradberry, Dontari Poe, Gerald McCoy, Greg Van Roten, Bruce Irvin, Vernon Butler, and numerous other players as well.
To replace them, the Panthers have gone with much younger players — especially ones that have a familiarity with new head coach Matt Rhule from his time in college. Players that know what it takes to build a winning culture in Rhule's "process."
As shocking as they can be, the moves that the Panthers have made over the past two months are not about lashing out at fans like some have taken it; they're about laying the foundation for a rebuild, getting younger, and attempting to establish a culture in which 7-9 — or 8-9 in 2021 and beyond — is simply unacceptable.
"Tell me that and we can talk." said Panthers' owner David Tepper in February of this year.
It is believed by some that Newton's camp was seeking a contract extension for the former MVP, and that is a very important factor that should not be ignored in his exit from the team. A long term commitment may have never been on the table from Carolina, and attitudes expressed by the organization support that claim. Tepper repeatedly stated to reporters that a decision would not be made publicly while Newton's health was uncertain, and in saying this made it clear that as long as the quarterback couldn't pass a physical, his future was in doubt.
Cam took a different approach with the media during the offseason period, telling reporters in February that he "absolutely expected" to be the Panthers' starting quarterback in September. There came a point, however, where simply being under contract may not have been enough for Newton. In this scenario, understandably, he wanted an extension and a feeling of security past this season, as the Panthers had an easy way to release him with only one year and $19 million left on his current contract. Cutting Newton would add $2 million in dead money against the Panthers' salary cap, which was a small amount compared to the team's league leading $47.85 million dollars in dead cap.
While Newton still has several years of football left in him, it's clear that he's not as healthy as he once was. Two season ending surgeries removed from his best performance on record — the first half of the 2018 season — it's difficult to know if he'll be back to his "old self" entirely for a long period of time.
Completion percentage is always brought up as the main argument against him, but if you watch him play you can throw that whole statistic out. Placing that stat aside, when Newton is at 100%, he's one of the most unstoppable and unique players in the NFL. Even when hurt, Newton has been able to will his team to a victory on several occasions. Knowing this, the Panthers moved on. Why?
Just last season we watched in training camp as the "old Cam" was back, even though he had only been absent for under a year. Then, in an instant, a freak accident against New England ended his 2019 campaign before it could really begin. Newton attempted to play on a hurt foot for the first two games but couldn't produce in the way that many had come to expect from him. Throwing 51 passes for 333 yards and 0 touchdowns in his second game, Newton's running game was nonexistent and the rest of the offense fell apart, only scoring 12 points in a close loss to the Buccaneers.
The combination of his injuries over the past two seasons led to him being out for 17 of the last 32 regular season games. Newton was also injured for 24 of those games, but played through six games with a shoulder injury and two games with a foot injury.

As good as Cam has been when healthy, the Panthers know more than anyone how quickly that player can be taken away from them. All it takes is one snap for any player to get injured, and in Newton's case it has unfortunately happened more often than he would hope.
Not to be missed in all of this is that the Panthers deserve to shoulder the blame in his injuries. With most coming inside of the pocket, it's important to realize that the offensive line never received the attention that Newton deserved during his time with the Panthers, as his stellar scrambling ability allowed a poor line to get a better rep than the group had earned at times. Newton never had the same left tackle guarding his blindside for more than a year, and he was protected by one of the least cohesive and painfully rotated offensive lines, with multiple players playing at different spots in a given season to make up for injuries or a lack of roster depth. The Panthers gave up a league leading 58 sacks last season behind one of the least experienced lines in the NFL. While the run game has thrived with McCaffrey, the pass protection is nowhere near solid yet.
As a sidenote, many like to say that Cam's physical, run heavy style of play is what has lead to his recent slew of injuries. In the 2018 and 2019 seasons, Newton had his campaign cut short by plays that occurred inside of the pocket. Concussions and large hits are another story, but if anything, his play style allowed him to avoid potential injuries more than some might think due to his frame and stature. 
Many people say that when a coach is hired to take over for an organization, he wants "his guy" at the quarterback position. For some, this is enough of an excuse to explain the reason that a team will move on from a signal caller, even if it's not a very strong one. While it may have been a factor, it's easy to believe that there's certainly more at play here than desiring a new QB to start off Rhule's tenure.
Rhule said multiple times that he was "excited" to get to know Cam and work with him this season, but he never quite said that Newton was the starter. In fact, one of the indicators of Newton's incoming departure may have been Rhule telling reporters that he wouldn't name any starters and that every player would be expected to fight for their role. While this doesn't specifically imply that Newton would be released, it does show that he came to Carolina with an attitude of "no job being safe."
Reports that echoed this sentiment came out at the NFL Combine in February, as multiple sources stated that the entire roster was up for grabs if the right price was offered.
With a new coach, a 12-20 record over two seasons, and mountains of dead cap space, it was clear that a rebuild of some kind was coming for the Panthers. It's simply the unavoidable fact of the team's current salary cap.
Through all of that though, Rhule still maintained that he wanted to have Cam on the roster. He talked about how much he was looking forward to getting to meet Newton and work with him, making sure that he was healthy before the 2020 regular season started Rhule certainly did not give any firm answers that the team was moving on from Newton, and the night and day difference between his comments and the eventual decision made by the team reflects negatively upon the franchise. It begs the question: "How much of this was PR and how much was actual honesty?" Rhule seemed genuine, but no one knows what really happened between the Combine press conference and the eventual decision except the front office.
Despite his words appearing to indicate that the veteran quarterback would stay put, Rhule made one important move that combined with the current situation impacting the world that would assist the Panthers in moving on from Cam Newton.
There simply may have come a time when Rhule doubted his ability to command the team with Newton still on the roster, as a holdover of the "old guard." Or, even still, that he did not believe that the two could properly coexist. Whatever the reason, he clearly felt that Bridgewater was his go-to guy.
THE NEW ORLEANS CONNECTION
Rhule's first, and arguably most important, move of the offseason was the hiring of LSU offensive coordinator Joe Brady, who revolutionized the Tigers' passing attack in his first year. Bringing concepts that he was familiar with from his time with the New Orleans Saints to college, Brady helped Tigers' quarterback Joe Burrow elevate himself from an average player to a runaway Heisman. Doubling his passing yardage and raising his touchdowns thrown from 16 to 60, Burrow's improvement can be directly tied to Brady's arrival.
Brady instituted a system at LSU that had shades of the West Coast style, with many RPO elements and five-wide sets. As he'd tell you though, "It's hard to label an offense anymore these days." The system was built on speed — getting receivers open in space and assisting the quarterback with quickly developing plays.
Before you dive into the Brady and Bridgewater connection, it's important to note that Brady's offense is tailored perfectly to the skills that Bridgewater was always praised for throughout his career. A quick, decisive release, efficient pocket movement and the ability to climb or slide away from pressure.
The Panthers' signing of Robby Anderson makes it clear that the new look offense will be entirely based around speed and "creating conflict" as Brady likes to put it. The more you look at the surrounding roster and the Saints-like scheme that Brady runs, it seems as if the Panthers primarily signed Bridgewater due to his ability to make these quick reads and split the defense with short-timing throws.
This is not to say that Newton doesn't or can't have these qualities, but when a QB is available that's interested in your system, has experience running it, and the preferred skill set to perform well in it, it makes sense why the new staff that has no prior connection to Cam would want to go in this direction.
Furthermore, when looking at the landscape of this offseason, OTAs, training camp, and other offseason activities will be limited or canceled entirely due to COVID-19. This reduced amount of time spent with players means that the familiarity between Bridgewater and Brady is all the more important. While Newton would be learning new terminology, plays, and all of the other factors that come with a new coaching staff, Bridgewater is already somewhat up to speed with the Panthers new scheme, and this could pay dividends for the whole offense moving forward.
Again, this is not to say that Newton could not learn these concepts, as he's demonstrated a large "football IQ" throughout his career. It's just simply a matter of bad timing in both his injury, the current pandemic, and the change of coaches around the organization.
JOB SECURITY AND "WIN NOW MODE"
While Matt Rhule has a seven year contract and a presumable three season window to figure out his retooling of the Panthers roster, one man in the organization doesn't have that kind of time. General manager Marty Hurney, who sits at 102-122 all time with the Panthers, is coming up on the potential final year of his second stint with the organization. Though he has been hamstrung at times due to bad contracts from previous general manger David Gettleman's tenure, Hurney's current run with the Panthers began to turn sour when Newton was injured against Pittsburgh in 2018.
Newton, who was contending for the league MVP award before the injury, hit a downward spiral and the Panthers finished out the season on a painful 1-7 skid.
Hurney finds himself in a difficult position, as the organization has clear signs of rebuilding all around him, while he has to attempt to create a winning team in the first year of Rhule's tenure.
While it's certainly possible that Newton could be entirely healthy this season, it's far from guaranteed given his recent history. With Cam being a potential injury risk heading into the season, Hurney may have felt that his best shot at winning enough games to save his job was replacing him with someone who was better than Cam's backup last season, Kyle Allen.
The Panthers proved that they could win without Newton last season, pulling out close wins for four weeks after his replacement — But the early wins could be attributed to Christian McCaffrey's heroics and not Kyle Allen's passing ability. Allen had bright spots, but was clearly not the answer after 13 starts under center in Carolina. The offense went on to become the Christian McCaffrey show, as he became only the third running back in NFL history to both rush and receive for 1000 yards in a single season.
While Allen was clearly not the "answer," the Panthers were only one yard away from winning multiple games that they lost in 2019, being stopped on 4th and Goal in the dying moments of the 4th quarter several times. If bad turnovers could be reduced, while having an option at QB that would hopefully stay healthy for an entire season, Hurney could turn this offense around as long as he could find someone that fit the bill and didn't break the bank.

The thing to focus on next would be the defense, which was a unit that struggled heavily in 2019, especially against the run. Switching back to a 4-3, a formation that the team ran for eight years under Rivera until a switch to a 3-4 base last season, the team will be looking to replace many free agent losses with players that are more suited towards the older system.
If anything is an indicator about Hurney's job not being safe at all, it's the fact that the team is continuously sending mixed signals with its personnel decisions. While the move at quarterback makes sense for a team attempting to compete, the moves on defense appear to be from one that is completely rebuilding. With those contradictions, he may not be the one making these decisions at all. Hurney's draft may show more details as to why the defense had gone under-served during this offseason.
The NFL Draft may be the last time we see Marty Hurney with the Carolina Panthers. Following roster mismanagement and cap issues, former Panthers' owner Jerry Richardson fired the last Panthers general manager, Dave Gettleman, in the middle of the summer, weeks before training camp. Hurney making it this far into the offseason does not automatically mean that his job is safe.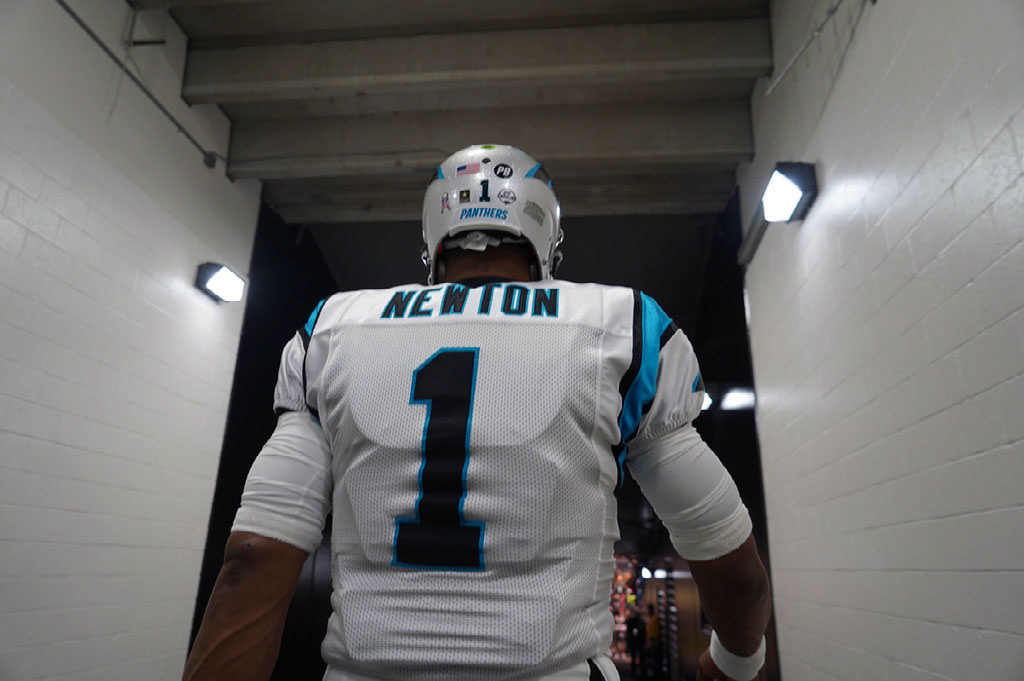 Despite trade rumors swirling around the Carolina Panthers quarterback for months on end, a deal never materialized to send the former league MVP to a new team.
Unfortunately for the Panthers, by the time the team decided to trade him they had given up all of their leverage. Teams around the league knew that he would be released due to free agent Teddy Bridgewater's intention to sign with the team, reported by ESPN's Adam Schefter not long after the press release regarding Cam's future with the team. There was no way that the Panthers could carry both Newton and Bridgewater's salaries through the rest of the offseason.
While the Panthers held out for a trade, some franchises reportedly asked for medical records from the team. As the week went on, Cam wasn't able to be moved, despite reports of several teams being interested. Instead it was quarterback Kyle Allen who the Panthers traded, sending the backup to Washington for a 5th round pick. In the end the team had zero opportunity to move Cam to another team due to making a move for another quarterback so soon, along with publicly announcing their intentions to move on from Newton.
The Panthers released Newton one week after announcing that they intended to trade him, ending his career with the Carolina Panthers.
In a league where finding a franchise quarterback is extremely difficult, a decision like this isn't made lightly. There is no doubt that Newton will continue to play in the NFL, though no one has signed him yet.
When asked what he thought about a potential change of scenery for Newton, his former Panthers teammate Gerald McCoy told reporters "That'd be the dumbest thing they ever did— is let Cam walk. There's not a lot of Cam Newtons walking around....any organization that don't want Cam Newton, that's just dumb to me."
Players around the league have stated similar opinions, but none of the 31 teams around the league have done more than "express interest" so far. With numerous open jobs filled across the last few weeks, there aren't many open starting jobs available for him to take.
Newton's passion, style, and showmanship will be missed in the Carolinas. His nine seasons with the team left an unmistakable impact on the franchise and region as a whole. While his time with the Panthers is over, the next franchise to pick him up will be getting a motivated star that is looking to prove his doubters wrong, which could turn into a situation that is similar to former Panthers' star receiver Steve Smith Sr.'s career with the Ravens.
It should have ended better. Even if Newton was going to be released regardless, so much of this feels like it could have ended differently. The direction that the team had shown makes it feel like they may have been uncertain about the move, even until the very end. All of this contributed to a complicated, difficult, and emotional process that ended in fans, players, and staff feeling torn apart.
Following his release, the quarterback who always showed his heart in everything he did in Carolina took to social media to express his feelings about the situation.
Cam said "They gave up on me."
From the Carolina Panthers' perspective, it's just a business.