Ask any football player how they feel about their teammates and they'll most likely give a one word answer:
"Family."
For Eastside's Max and Jamen Louris, that familial bond is much more literal.
The Louris brothers are only a year apart - The older brother, Max, is currently in his senior year of high school, while his brother Jamen is in 11th grade. Football has always been a connection the two shared, with both brothers beginning their careers early on in life. "I started playing when I was five," said Max. "I played for the Eastside Dolphins. My first year, my dad was the assistant coach. They had a good team and had won the championship the year before."
Jamen began his career two years later, at age six. Influenced by being around the game of football as a young child, with a father for a coach and an older brother who was always active, it didn't take long for him to join in on the family's main sport. "I saw my brother play when I was younger and I knew that this was the sport that I wanted to play alongside him."
Throughout the years, the brothers would stay local, playing football in the Upstate of South Carolina. In a rarity for most football players, the pair never traveled far from the field that they would share as high schoolers, a decade after their first snaps together playing the Dolphins youth team.
However, the dynamic duo wasn't always the same as it appears today, with Jamen at corner and Max at running back. "I started at linebacker, and then I was a backup running back," explained Max. "As I grew up I went to quarterback throughout rec-league, and then I played as a lineman for one season, as an offensive guard and nose guard. Then I started swimming, and lost weight so I was moved back to running back."
Jamen started his football career at the position that his brother ended up at, playing running back throughout his youth. "When I came to Eastside my freshman year, Max took over the running back position. I made the transition over to corner, since that's my natural position and what I'm best at."​​​​​​​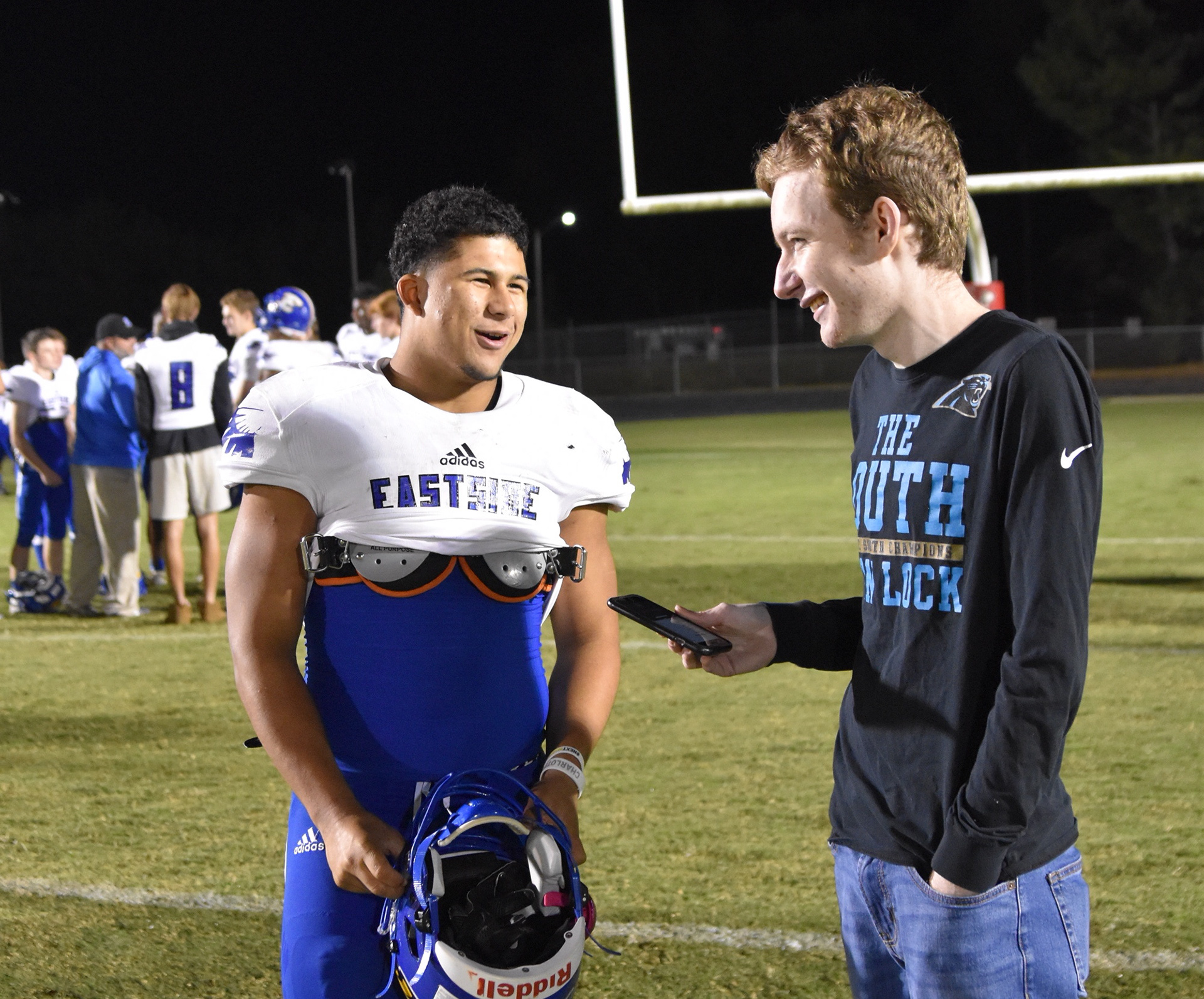 Whether it's working out, practicing, or performing on the field, the pair strive to get the best out of each other with every rep. Max explained the process behind their friendly sibling rivalry that's lead to their success this season. "Pushing each other everyday in practice has been huge. We're huge motivators for each other. Because I made the varsity team as a freshman, when Jamen was coming up as a freshman I said 'See, I played varsity my first year, so what are you gonna do?' So he was able to make varsity his freshman year too. Every year it's been a list of 'Oh see, I did this, can you do this?' We set goals for each other and it motivates both of us."
Diving further into the connection that the brothers share at home and how that translates to on field success, Jamen added, "Max is my right hand man. When practice or morning workouts get tiring he's right there waking me up, telling me 'Come on, let's go to practice,' and at night it's always 'Come on it's time to do our push-ups. Let's get to work!' It pushes me to go harder and we both improve because of it."
Through all the challenges and competitions that the Louris brothers face off in, one honor stands above the rest: Earning a spot on South Carolina's High School All-State team. "Last year, I didn't make it," said Max. "Now Jamen's trying to make it so he can say he did it his junior season when I couldn't. I'm definitely trying to make it this season as well. It's very competitive between the two of us."
The connection has certainly helped the pair put up big numbers this season with the Eagles, assisting the team on both sides of the ball. Max rushed for 1,363 yards and fourteen touchdowns in the regular season, while his brother had seven interceptions and returned three of them for touchdowns in a breakout campaign. Their strong performances helped Eastside vie for their first region title in twenty three years, as the team finished 8-2 in one of their best seasons in decades.
Entering the SCHSL 4A playoffs as the second ranked team in their region, this has been a massive success for the whole Eastside team, who has bounced back from coaching changes and a disappointing finish to their last season. "I knew we were gonna be here after losing our final playoff game last year" said the standout running back. "Every day in the offseason we were working. Jamen was pushing me, I was pushing him. We said "We're gonna lead this team and we're going to be right where we are today."
"I had no doubt in my mind that we'd be in this position." the cornerback added. "I saw how hard the team worked in the offseason and during the summer. Practice, weightlifting, early morning workouts, all the stuff people don't see from the outside, but I knew. I knew we'd be here."
Speaking about their early careers together, Max recalled a more nervous side of Jamen when it came to clutch time. "We were playing in the championship game in our rec league, and our dad said "Jamen, let's go win this game." They were about to give him the ball on the goal line and he said "No, no, give it to Max! I'm scared! And so my dad took him out of the game and I ran the last touchdown in for the win."
"I was a kid then! I'm not anymore." said Jamen. "I didn't like the clutch moments, I was too scared that I was gonna be the one to lose the game."
The junior cornerback has certainly changed in that regard, as he has performed his best this season when his team needs him most. During an early road game at Broome, Jamen picked off the Centurions' QB twice, including a pick six that turned the tide of the whole game, as it gave Eastside its first lead of the game. The Eagles only gave up fifteen more points as they routed Broome, and it all pointed back to the pivotal performance of the breakout corner.
As the team's leader in forced turnovers, he's a player that no one wants to throw near when it comes down to crunchtime. "Now I'm ready for those moments, and ready for the playoffs. I've studied the game, studied film, practiced, and trained hard. I'm ready for this." said Louris.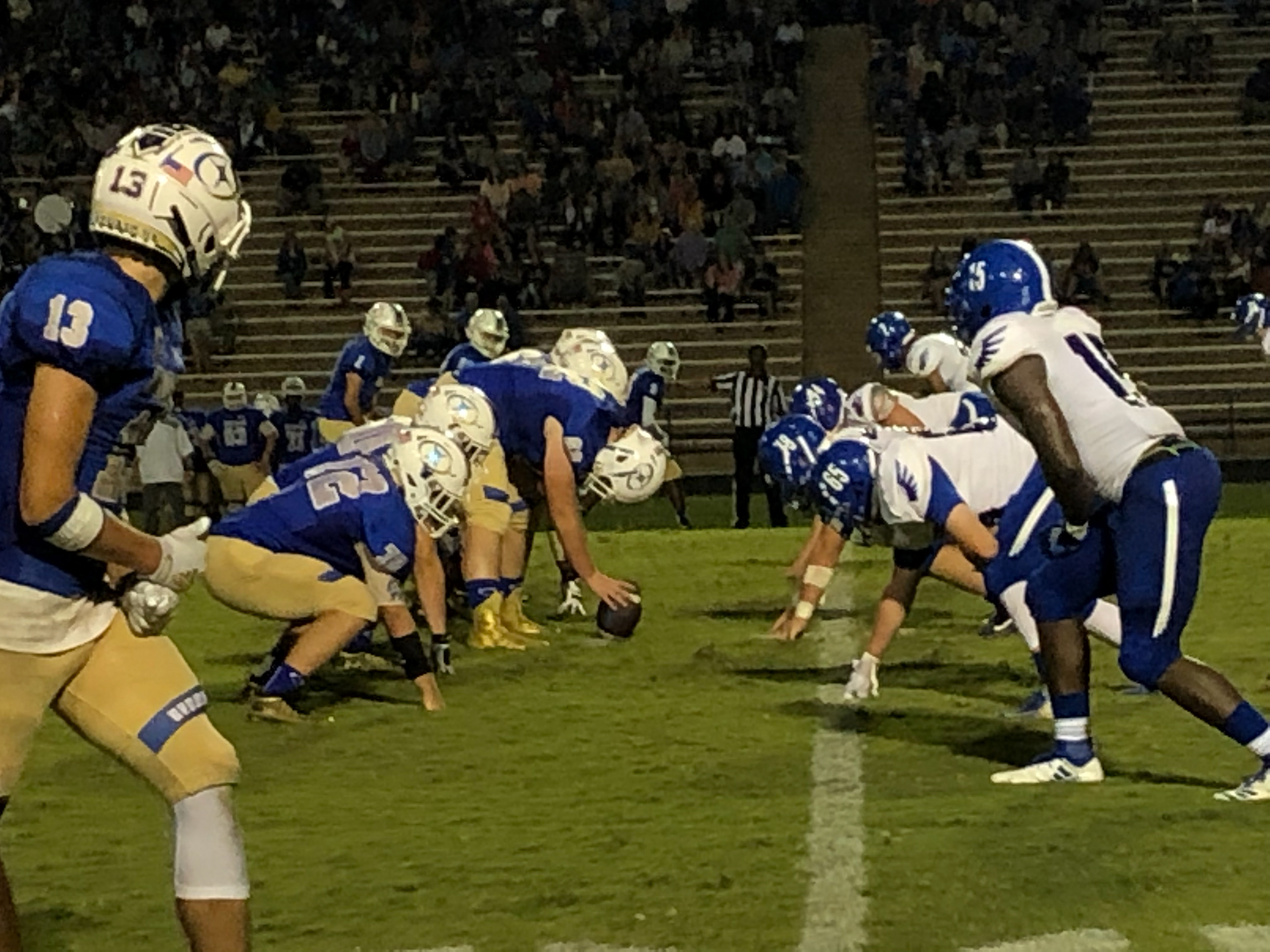 Another force that has turned the tide for the Eagles is their first year head coach, Andre Woolcock. As an assistant with the program two years ago before leaving to coach Ninety Six, this wasn't Woolcock's first time around as a coach for Eastside, but the second go around has been highly successful so far. Though the humble coach will always give credit to his players and staff before taking any of the spotlight, he's been able to produce a quick turnaround with his players behind him in full force.
The Louris brothers explained that the team's bond with their new head coach goes beyond football. "Coach 'Gooch' is the best coach I've ever had. He's been there to help me grow as a man, and also help me perform as a football player. On the field, off the field, or just knowing what to do in life, he's helped me a lot."
"Coach has helped me a ton as well," said Jamen. "He's helped me grow as a person and not just as a football player. He doesn't just care about winning. He'd rather prove a message or help you improve yourself than win the game at any cost, and that's what I like about him."
With Max's senior season drawing to a close, this is the third and final year that fans will be able to watch this duo play alongside each other at Eastside, though it may not be the final time that the two play together. The brothers expressed interest in playing football together again in college, with Max calling the opportunity "a dream." He told me that he's interested in playing for a SOCON school, and has been looking at the Citadel during his recruitment process. If being teammates at the next level is not an option for them, "maybe we'll play against each other on Saturdays instead," said Jamen, who added, "whether I'm playing DI or DII football, I don't care. I just want to play."
Their bond as brothers, competitors, and teammates has pushed the pair further than they could've imagined when their careers began over ten years ago. Now, with their time together at Eastside quickly waning, the Louris brothers are focused on the goal that unites them, and their teammates, above all else: winning Eastside's first state championship since 1977. Max explained, "This connection, with me being a leader on the offense, and Jamen becoming a leader on the defense, can help us push our teammates and help everyone to step up for the playoffs and hopefully win a state title."
"This is what it's all about."